After 60 years' service on the Talyllyn Railway, Corris Coach No 17 is in urgent need of major repairs to the bodywork, full reglazing and a mechanical overhaul. Please 'Like' the facebook group for updates: www.facebook.com/corriscoach17rebuild
History
Coach 17 on the Talyllyn Railway is known as the Corris Coach. It is the only surviving Corris Railway coach still in use. Built in 1898 by Metropolitan Carriage and Wagon Co. in Birmingham, it was one of the last two coaches built for the Corris Railway.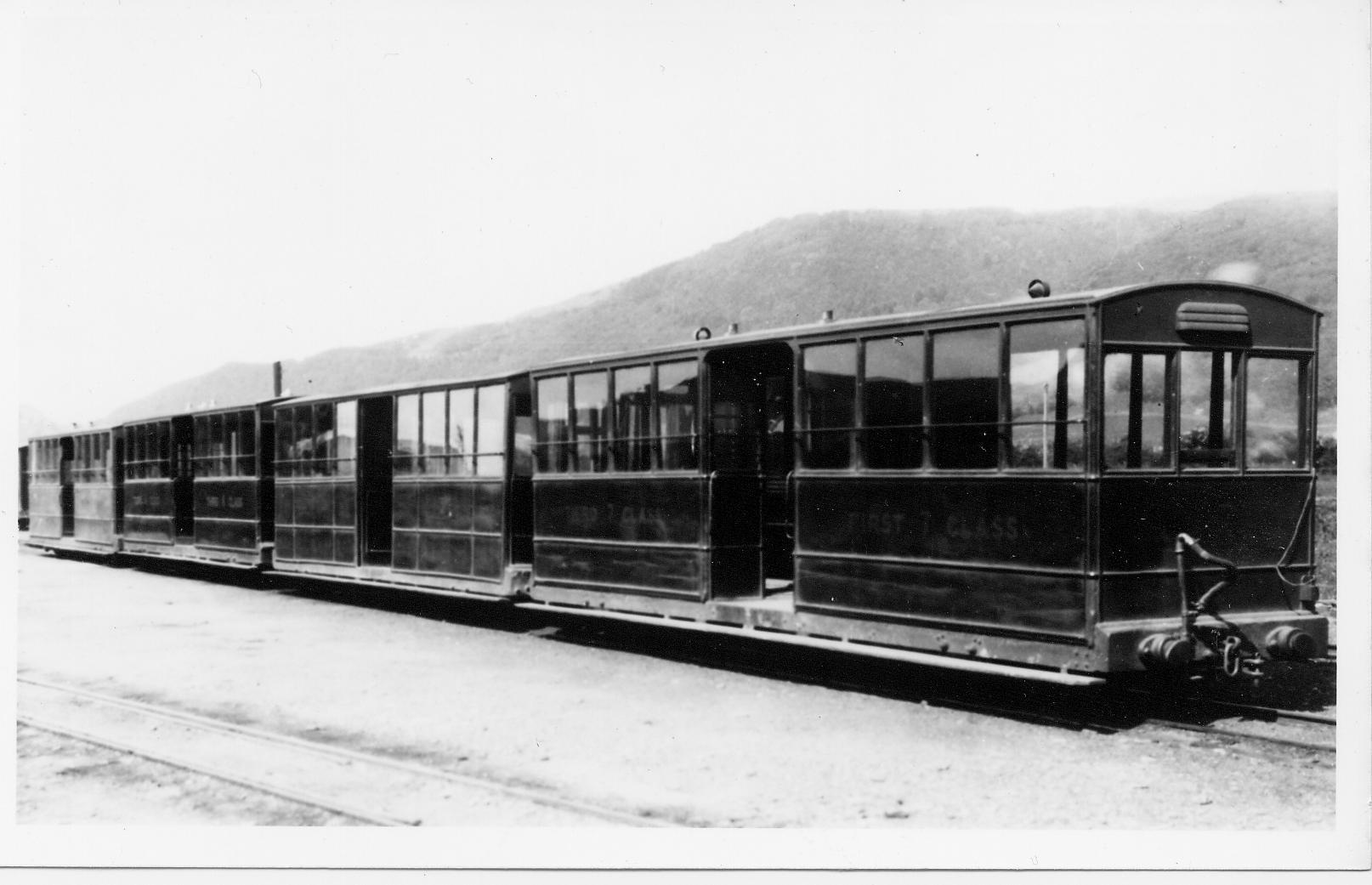 Sister coach No 7 basks in the sun at Machynlleth Low Level in the 1920s. Photo: Corris Railway Society
The Corris was taken over by the Great Western in 1930 and at the end of that year the passenger service was withdrawn. The coach, along with No. 7, were withdrawn and sold to a GWR official for use as summerhouse/greenhouse (No .8) and chicken coop (No. 7) at his home near Gobowen.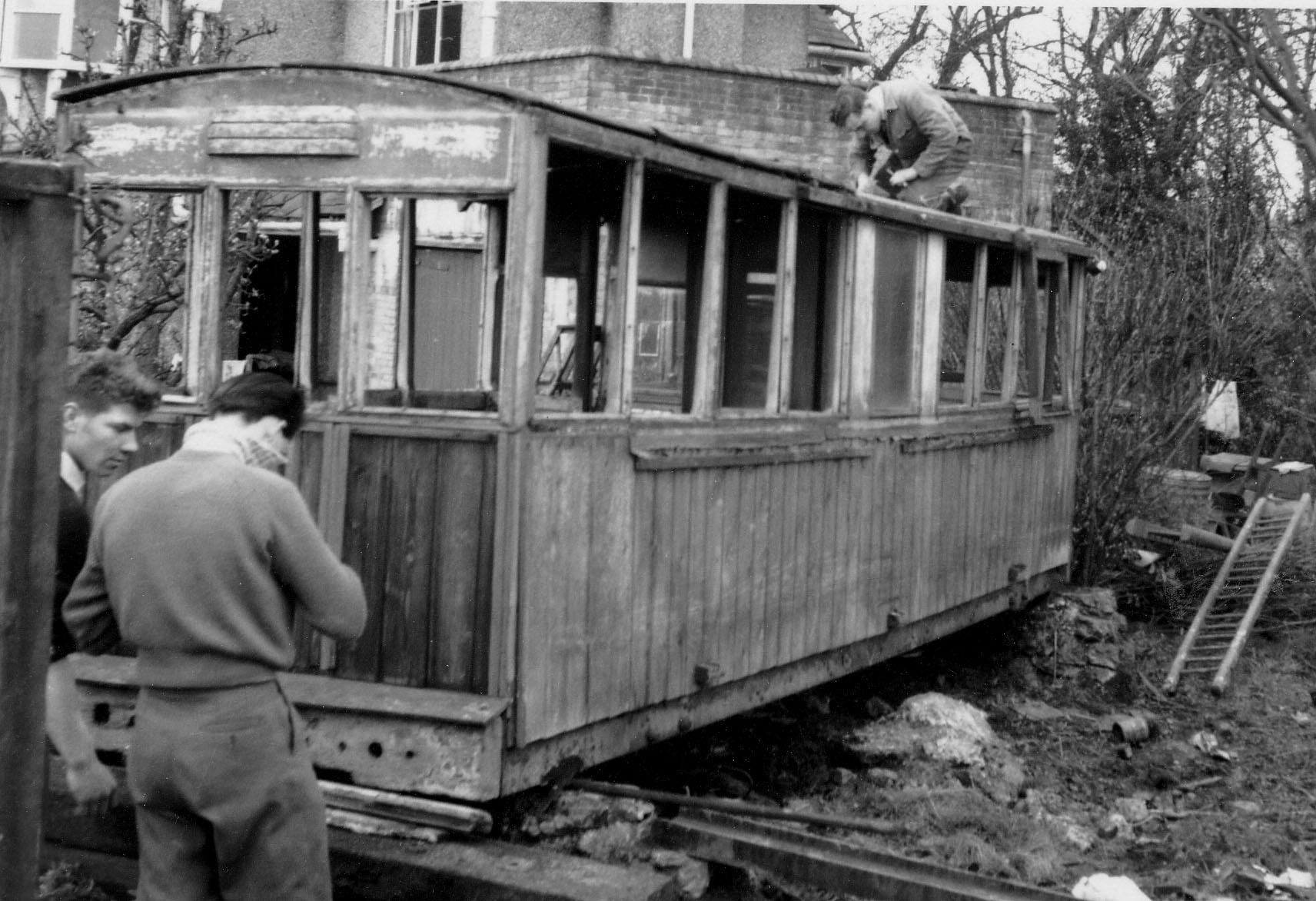 1959: the coach is being extricated out of the garden in Gobowen. Photo: TR Archives.
The First Restoration (1959 - 1961)
In 1958 the coaches were located by the Talyllyn Railway. No. 8 was purchased and moved to Tywyn where skilled volunteers (John Green and his son Brian) completely restored the bodywork. A brand new chassis and running gear were made in the TR works at Pendre. The restored coach was painted in the brown Corris Railway livery with ornate gold leaf grecian lining and with original Corris crests surrounding the Talyllyn running number, 17. The coach entered service in 1961 and immediately became popular with its all-round windows.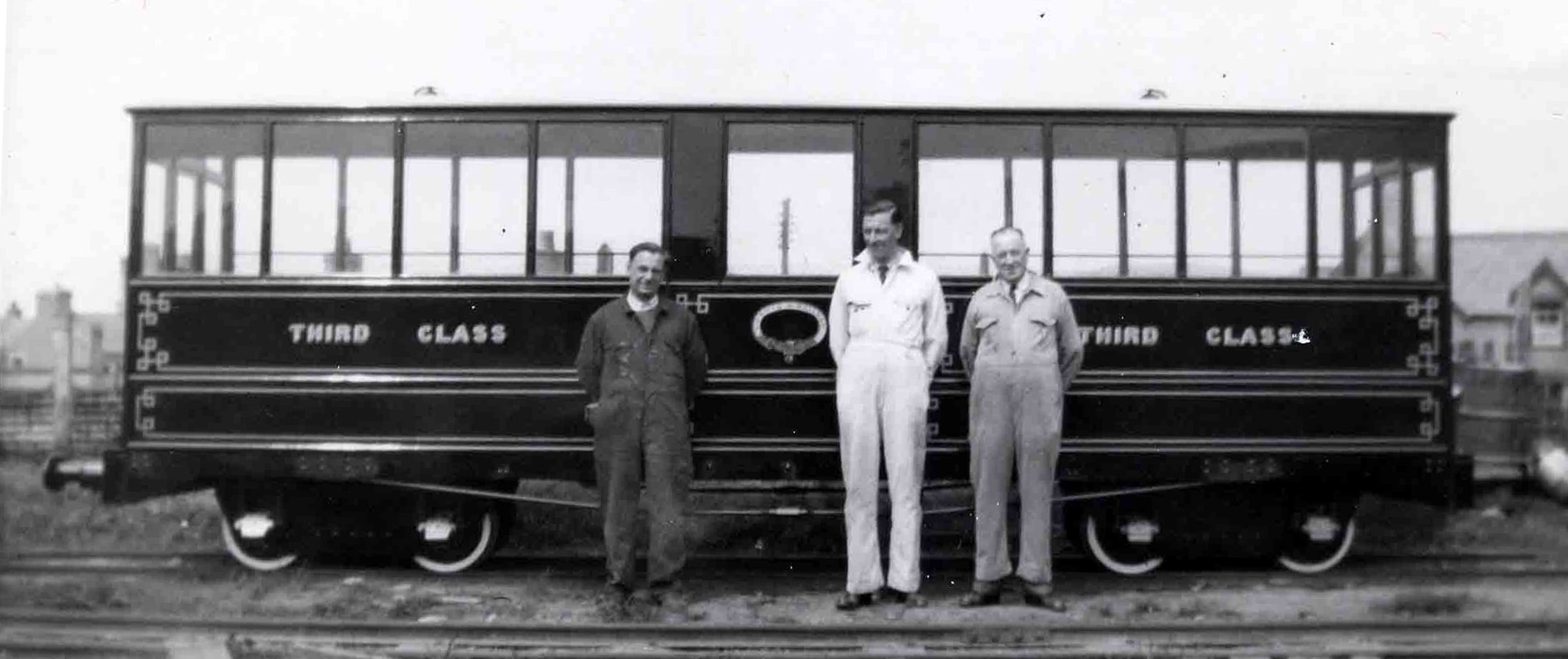 Father and Son Green (right) posing proudly by the newly restored carriage in 1961. Photo: TR Archives.

Basking under the same sun, but a different railway: Pendre early 1960s. Photo: David Mitchell.
It has been used as a VIP coach on a number of occasions, particularly in November 1982 when Diana, Princess of Wales travelled in it. It is often marshalled into the Wedding Trains, and is used by bridal parties travelling to their wedding at Abergynolwyn.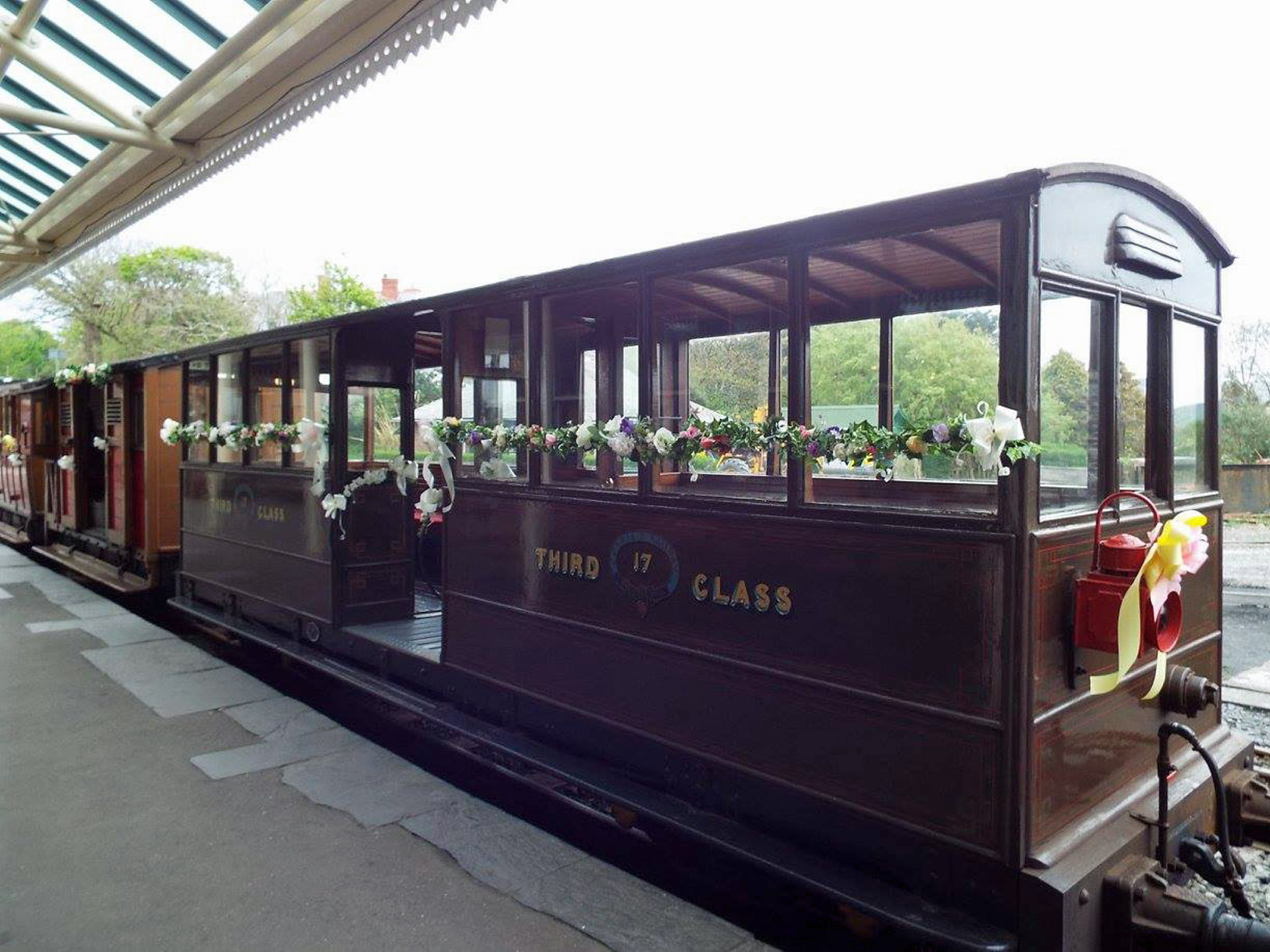 Waiting for the Bride! "Suited and Booted" with wedding garlands at Wharf. Photo: Kes Jones.
No 17 had a minor overhaul and repaint in 2008, where the former Pullman transfers used in 1961 were replaced with Dutch Bronze transfers; the vermilion lining was also altered to reflect a surviving panel still extant on the Corris Railway.
The Second Restoration (2018 - 2019)
Nearly 60 years of use on the Talyllyn (almost twice its time in service on the Corris) have taken their toll and the bodywork now requires some major repairs and rebuilding.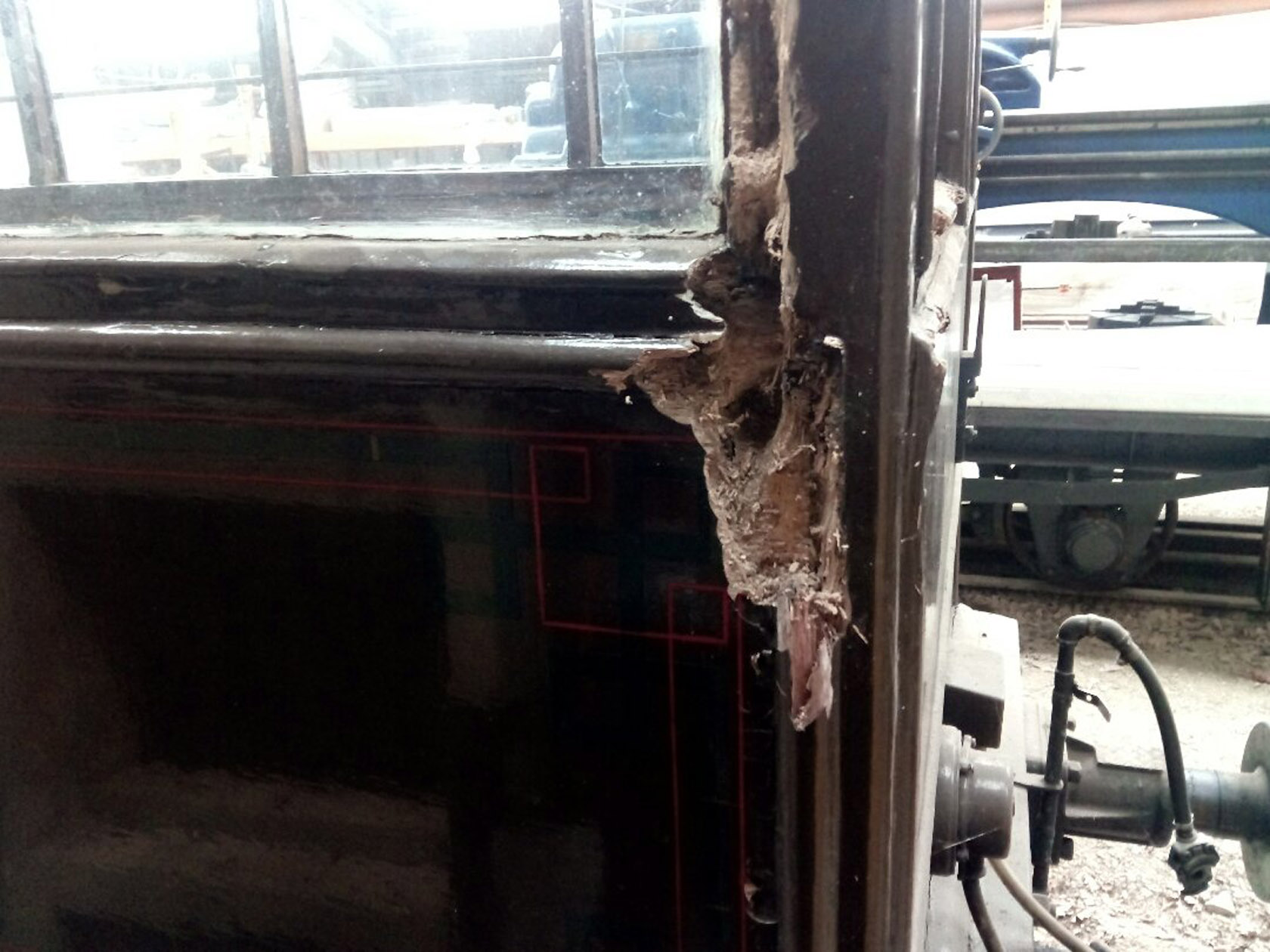 South-east corner pillar, August 2018. Photo: Tom Curtis.
Though the total extent of the work required will only become clear when panelling is removed and the ravages of time are investigated, it is known that some of the corner posts are rotten and panelling requires replacement.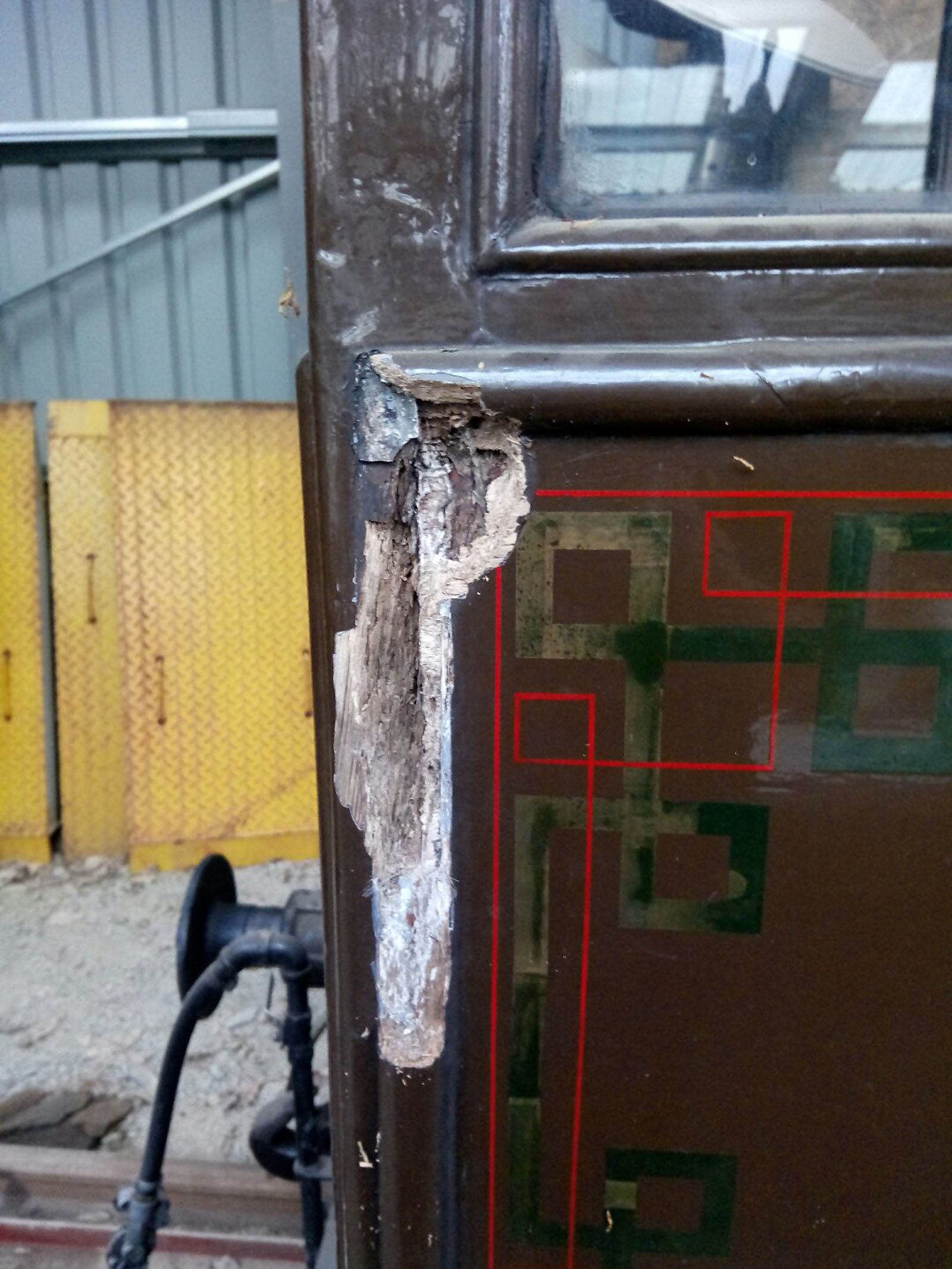 North-east corner pillar, August 2018. You can see the 'greening' of the Dutch Bronze transfers. Photo: Tom Curtis
The estimated cost for the full restoration, including work on the running gear as well as the body, is around £20,000. Roughly half of this estimate is for materials and half for labour. It is intended to do the work in Tywyn and this will require the employment of a skilled vehicle builder. It is hoped to retain as much surviving original material as possible, as there is still some 1898 material soldiering on in the carriage.
The planned work is as below:
Full Mechanical Overhaul of Bogies to include alignment checks and suspension modifications
Renew Brake Cylinder and Triple Valve
Remove end panels
Remove and replace corner pillars as required. East end already known to be rotten.
Remove interior panelling and seats
Inspect timber frame and renew body pillars and rails and cills as necessary
Refit panelling, renewing as necessary
Replace glass in the windows to meet current safety standards
Repaint exterior, apply crests, gold leaf lining and varnish
Repaint and varnish interior
Renew roof covering
The approximate breakdown of materials and labour hours is:
| | | |
| --- | --- | --- |
| Item | Labour Hours | Materials |
| Bogies | 90 hrs | £2,200 |
| Corner Pillars | 40 hrs | £1,000 |
| Rails | 80 hrs | £500 |
| Panels | 80 hrs | £100 |
| Body filler | N/A | £25 |
| Prep | 40 hours | N/A |
| Sanding discs | N/A | £60 |
| Painting/lining/crests | 160 hrs | £180 (+ transfer cost TBD) |
| Roof | 40 hrs | £600 (resin & matting) |
| Glass | 40 hrs | £2,000 |
The estimated time to complete the work is approximately 6 months.
If you lovely people are so generous that this appeal is oversubscribed any surplus funds will be allocated to the General Fund to be used for the preservation of the Talyllyn Railway.